---
In 1973, Mr Sidney F Major finally completed the writing of the First World War History of the 1/18th Battalion, London Regiment, a copy of which was passed to the Regimental Museum.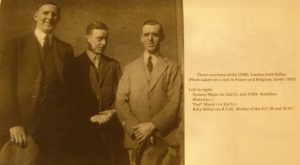 During the current period of commemorating the centenary of the actions of the 1st Battalion, London Irish Rifles during the Great War, we are delighted to be able to add here a transcribed copy of this history.
This remarkable narrative allows readers to follow the details of the Battalion from its mobilisation in early August 1914 to its return from France during 1919.
---
CHAPTER 1 – AUGUST 1914 to AUGUST 1915
"On Saturday, 1st August 1914, the London Irish paraded at Chelsea to go for their annual camp on Persham Down. They en-trained at Paddington but spent less than one day in camp as orders for general mobilisation were received the same night and the Battalion was ordered to return to Chelsea. On mobilisation, every man received five pounds in gold. The only absentees were one one officer, who was in Canada and one soldier, who was visiting India. This rapid mobilisation reflected great credit on the Commanding Officer and his officers…."
---
CHAPTER 2 – SEPTEMBER 1915
"The offensive, which was about to open, was designed to break the German front in Artois and Champagne. The French were to deal with the Champagne attack exclusively, while the Artois attack was to be delivered by the 10th French Army on the right, the British 1st Army in the centre, and the British 2nd Army on the left. The 2nd Army, under General H Plumer, was required to pin the enemy down in the north from Ypres to Armentieres. The northern portion of Sir Douglas Haig's First Army. from the south of Armentieres to the La Bassée Canal, comprising 3rd Corps, the Indian Corps and 2nd Division (1st Corps) was to demonstrate against Aubers Ridge and the enemy north of the canal…"
---
CHAPTER 3 – OCTOBER to DECEMBER 1915
"On 1st October, the Battalion, consisting of 14 officers and 559 men, paraded at 10am for inspection by Brigadier General Thwaites. After the inspection, the Brigadier addressed the officers and men and complimented them warmly on the spirit and dash shown in the recent operations and the splendid discipline, which carried them through a very trying period…
---
CHAPTER 4 – JANUARY to MAY 1916
"The Battalion, somewhat jaded after its experiences in the line at Christmas, rested at Labourse, until 2nd January, when it moved up to Verquin. On the following day, officers of the 141st Brigade proceeded to the line to reconnoitre and the Battalion later marched to Les Brebis, arriving at 1pm (3rd January). The 141st Brigade relieving the 18th French Division at Loos on 4th January….."
---
CHAPTER 5 – 21st to 25th MAY 1916
"In accordance with operational orders, on the evening of 20th May and with a trench strength of 20 officers and 423 men, the Battalion moved up from Villers-au-Bois and Carency to take over a part of the front line. During this period, the Divisional front was being amended. On the left, the Lorette defences were taken in the area of the 23rd Division. On the right, the 47th Division was to extend further to the right to take over a portion of the 25th Division's front, this part of the line being described as the Berthonval Section…"
---
CHAPTER 6 – JUNE to AUGUST 1916
"From 26th May to 11th June 1916, the Battalion remained in Corps reserve at Marest. During this period, the Battalion re-fitted and was much occupied by physical drill and training on the heights beyond Bours. Separate drafts of 75 and 31 other ranks, which arrived on 5th and 6th of June respectively, were welcomed and posted to Companies.."
---
CHAPTER 7 – SEPTEMBER/OCTOBER 1916
"The 141st Brigade Operational Orders for 10th September 1916 intimated that the Brigade would relieve 3rd Brigade in the support brigade area on 11th September. One officer per battalion was detailed to proceed to the 3rd Brigade Headquarters in Happy Valley where guides would indicate the area to be occupied…"
---
CHAPTER 8 – OCTOBER 1916 to APRIL 1917
"At 1145am on 14th October 1916, the Battalion moved off from Franvillers and marched to the Railway Station at Albert. One half of the Battalion en-trained at 3pm and the other half at 6pm…"
---
CHAPTER 9 – 7th APRIL 1917
"From 1st to 6th April, the Battalion remained at Halifax Camp, carrying out special training for the forthcoming raid. During the first few days of the month, the weather was very cold with the wind from the north east. A very heavy blizzard raged throughout the night of 2nd/3rd April, covering the ground with deep snow, but a change of wind on 4th April was followed by heavy rain in the morning. By 6th April, with rain continuing at intervals, the ground was free of snow, but conditions were extremely wet and windy…"
---
CHAPTER 10 – APRIL TO SEPTEMBER 1917
"On 11th April 1917, the Battalion moved to Steenvoorde, after having spent the previous two or three days at Halifax Camp. Prior to moving off at 9am, General Gorringe addressed the men and congratulated them on their performance in the Raid and, en route, the Battalion was inspected by General Sir Herbert Plumer…"
---
CHAPTER 11 – OCTOBER TO DECEMBER 1917
"On 21st September, the Battalion rose at 630am and prepared for a full marching order inspection but this was cancelled and a rifle inspection and pay parade substituted – to the great satisfaction of the men…."
---
CHAPTER 12 – DECEMBER 1917 TO MARCH 1918
"After a weary journey from the line, the London Irish arrived at Bertincourt at 3am on 16th December and billeted in empty houses. The men were up again at 7am and, by 9am, the Battalion was moving across country to Velu where the Brigade en-trained at 1015am…"
---
CHAPTER 13 – MARCH/APRIL 1918
"The Battalion, under the command of Lt-Col GH Neely, moved into the front line on Welsh Ridge, La Vacquerie Sector on 20th March 1918, relieving two Companies of 17th Battalion Royal Fusiliers and 2nd South Staffs. "A" and "B" Companies occupied the front line, "C" and "D" Companies support and reserve with Battalion Headquarters in the sunken road known as Surrey Street. 19th Battalion took over on the left, with 20th Battalion in support in Diarmid Trench on Highland Ridge. On the right of the London Irish was 17th Battalion (140th Brigade)…"
---
CHAPTER 14 – APRIL TO LATE AUGUST 1918
"While in Army Reserve at Domvast, the Battalion spent the time resting, reorganising and training. Large drafts arrived to make good the wastage of the March fighting and, as many of the men were not physically fit for fighting, it was decided to form a fifth, or reserve, company: one platoon per company to include the youngest and least robust. The intention was to keep the reserve company out of the line, when the Battalion was in action, until the occasion was appropriate for its use…"
---
CHAPTER 15 – LATE AUGUST TO THE BEGINNING OF SEPTEMBER 1918
"After the German offensive, which opened on 21st March 1918, had been brought to a standstill, the initiative passed to the Allies and, in July, the French attacked in Champagne. The success of this assault led to further offensive action and the battle gradually spread northwards…"
---
CHAPTER 16 – MID SEPTEMBER 1918 TO 1919
"The Battalion was very pleased to be back at Raimbert, where billets were good and here kindly inhabitants retained a happy recollection of the previous visits of the London Irish. Unfortunately, very many of the officers and men, who had helped to establish the Battalion's excellent reputation in the village, had been killed or wounded since the last rest in Raimbert but the tradition lived on and the Battalion was made very welcome…"
---
CHAPTER 17
"While the termination of the war brought rejoicing and ended years of stress and anxiety, there was good deal of sadness in the breaking up of the Battalion. Since 1914, the officers and men had been bound by the strong ties of fraternal understanding and soldierly qualities. Elsewhere, individual hopes and aspirations were loyally subordinated to the well-being of the Battalion in the pursuit of high ideals…"
---