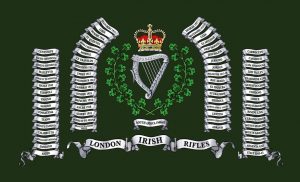 The Great War – 3 Battalions:
"Festubert, 1915" "Loos" "Somme, 1916,'18" "Flers-Courcelette" "Morval" "Le Transloy" "Messines, 1917" "Ypres, 1917" "Langemarck, 1917" "Cambrai, 1917" "St Quentin" "Bapaume, 1918" "Ancre, 1918" "Albert, 1918" "Pursuit to Mons" "France and Flanders, 1915-18" "Doiran, 1917" "Macedonia, 1916-17" "Gaza" "El Mughar" "Nebi Samwil" "Jerusalem" "Jericho" "Jordan" "Palestine, 1917-18".
The Second World War – 3 Battalions:
"Bou Arada" "El Hadjeba" "Stuka Farm" "Heidous" "North Africa, 1942-43" "Lentini" "Simeto Bridgehead" "Adrano" "Centuripe" "Salso Crossing" "Simeto Crossing" "Malletto" "Pursuit to Messina" "Sicily, 1943" "Termoli" "Trigno" "Sangro" "Fossacesia" "Teano" "Monte Camino" "Calabritto" "Garigliano Crossing" "Damiano" "Anzio" "Carroceto" "Cassino II" "Casa Sinagoga" "Liri Valley" "Trasimene Line" "Sanfatucchio" "Coriano" "Croce" "Senio Floodbank" "Rimini Line" "Ceriano Ridge" "Monte Spaduro" "Monte Grande" "Valli di Comacchio" "Argenta Gap" "Italy, 1943-45".
---
ROLL OF HONOUR.
WE WILL REMEMBER THEM ALL.
First World War – 1084 men from the London Irish Rifles are listed on the CWGC database from December 1914 to June 1919. .
Second World War – a Roll of Honour of men, who died while serving with the London Irish Rifles from 1939 to 1945 can be found here.
---
HISTORIC EVENTS FROM 1859 TO THE CURRENT DAY.
Read about the detailed Regimental history of the London Irish Rifles here.
Read here about some of the momentous events in which the London Irish Rifles have taken part.
---
THE FIRST WORLD WAR.
From March 1915 to November 1918, two Battalions of the London Irish Rifles gained 24 battle honours in actions across Northern France, Belgium, Greece, and the Middle East..
As we reach the 100th anniversary of these momentous events, we shall be adding extensive details of the London Irish Rifles' vital role during these campaigns.
Read various First World War stories and links.
---
THE SECOND WORLD WAR.
From November 1942 to May 1945, two Battalions of the London Irish Rifles gained 40 battle honours in actions throughout the Middle East, North Africa, Sicily and mainland Italy, before taking part in peace keeping duties in Northern Italy and Austria.
We have added extensive details of the vital part played during these campaigns, including excerpts from the Regimental History, Rolls of Honour, and also links to war diaries, personal narratives, and citations for honours and awards of men who served with the 1st and 2nd Battalions of the London Irish Rifles during the Second World War.
Click here to read various Second World War stories and links.
---
ORIGINS OF THE CAUBEEN.
Read the story of the reasons for the Regiment's wearing of the Caubeen here.