… to the web site of the LONDON IRISH RIFLES ASSOCIATION.
---

---
August 2023 update:
We have received the sad news of the recent death of the greatly respected and much loved Eric Craig BEM VR.
The Craig family has kindly sent us a note of appreciation.
Quis Separabit.   Faugh-a-Ballagh.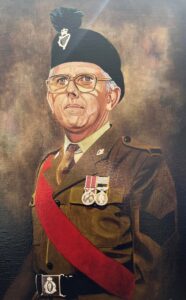 ---
We recently marked the 108th anniversary of the Battle of Loos and now look forward to seeing you on Remembrance Sunday at Connaught House. As usual, we shall be gathering together from 10am onwards and will be on parade at 1030am on 12th November 2023.
Over the coming months, we shall also continue to mark the 80th anniversary of the London Irish Rifles' outstanding contribution to the liberation of Italy. To mark the 80th anniversary of the invasion of Sicily (Operation Husky), representatives of the London Irish Rifles Museum recently attended commemorations in Catania, Syracuse and Avola in July and also visited the Memorials to the London Irish Rifles and 38 (Irish) Brigade at Piedimonte Etneo and Maletto. We shall expect a representative Association party to attend commemorative events at Anzio, the Garigliano river and Cassino in 2024 so watch this space for further updates on those plans.
Keep in close contact with us, whether it by regularly visiting this website or joining the Regimental Association and coming along to one of our parade days.
Lt Colonel Ant Maher VR
Chairman of the London Irish Rifles Association.
QUIS SEPARABIT
eMail: webmaster@londonirishrifles.com
twitter: @LIRAssn
---
24th September 2023 – Loos Sunday.
12th November 2023 – Remembrance Sunday.
---
Please make sure you have provided an up to date postal address to our Membership Secretary for you to receive the Emerald:
membershipsec@londonirishrifles.com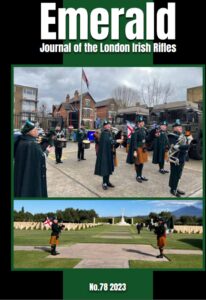 ---
---

Objectives:
To foster friendship and fellowship among all past and present members and associate members.
To afford financial assistance to past members of The Regiment and their dependents.
To administer and accept responsibility for The Band.
To administer and accept responsibility for the Regimental Museum.
To encourage all members to attend organised functions of the the Association and of the Regiment.
---
---
The Welfare Officer is contactable directly by eMail: welfareofficer@londonirishrifles.com.
---
---
On 1st May 2022, the London Regiment formally became 1st Battalion, London Guards and D (London Irish Rifles) Company now forms No 15 (Loos) Company, Irish Guards.
---
---
REGIMENTAL HISTORY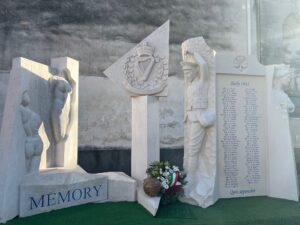 ---
---
THE PIPES AND DRUMS
You can contact the Band President by eMail: bandpresident@londonirishrifles.com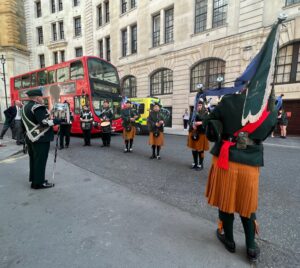 ---
---
REGIMENTAL MUSEUM

---
---
FIND US
Connaught House is located in Camberwell, and easily accessible by car, bus, tube and by overground train services.Find detailed directions
---