… to the web site of the LONDON IRISH RIFLES ASSOCIATION.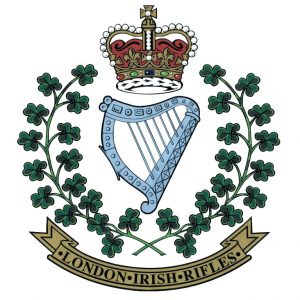 I would like to send seasonal greetings and my very best wishes for 2018 to Association Members as we look forward to what I sincerely hope is another healthy and fruitful year for us all.
The next major event at Connaught House is the St Patrick's Parade on Sunday 18th March so watch out for further details as they are confirmed.
As we continue to mark the London Irish Rifles' service periods during both World Wars, over the next few months we shall also hope to share details here about future Association battlefield pilgrimages.
I look forward to seeing you in the none too distant future.
Find out details of how to apply for Membership of the Association and receive the Emerald by following this link.
Major Peter Lough TD,
Chairman of the London Irish Rifles Association.
QUIS SEPARABIT.
---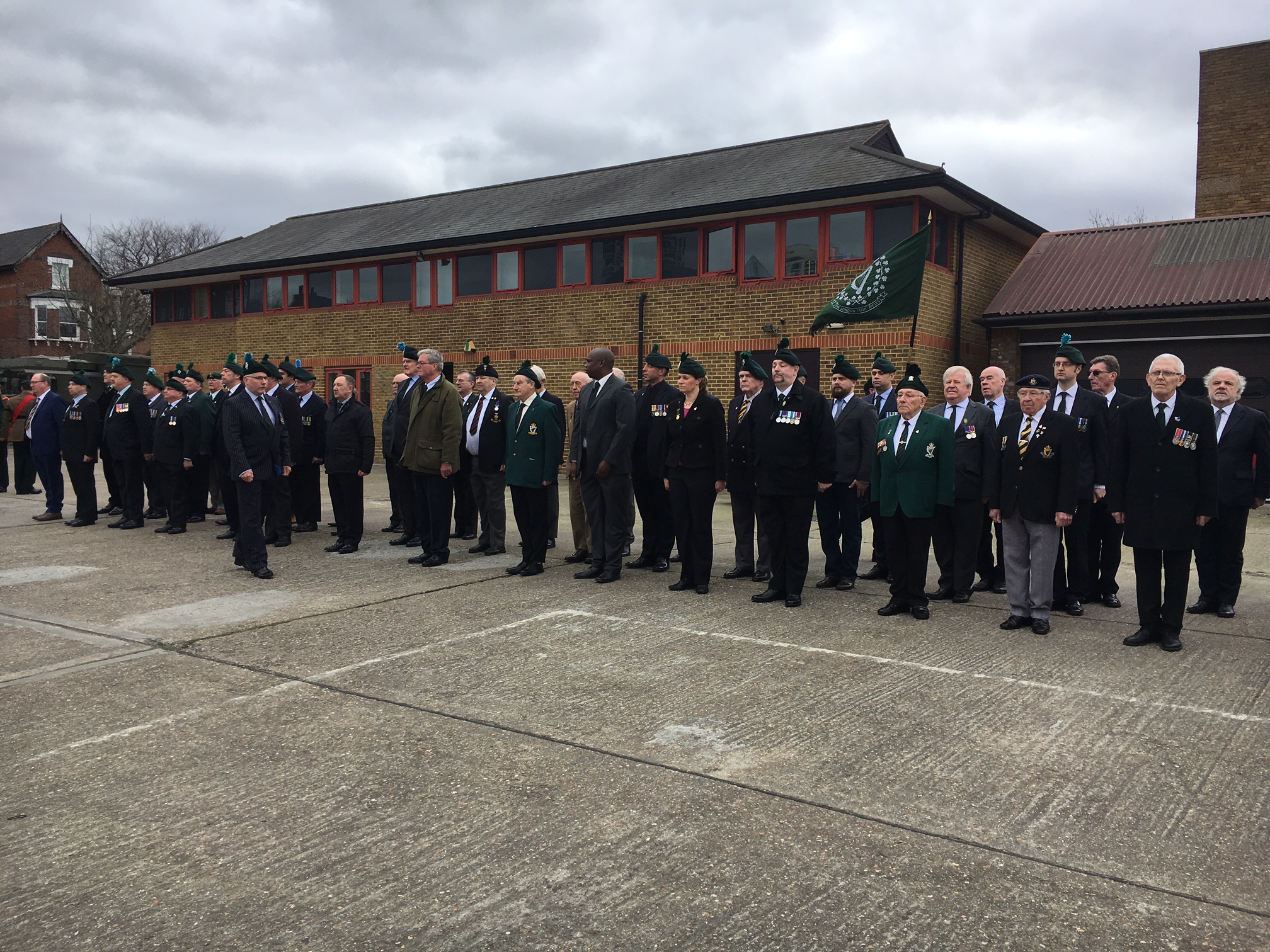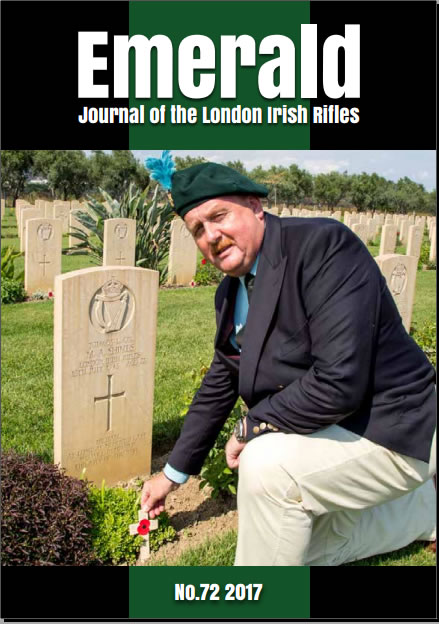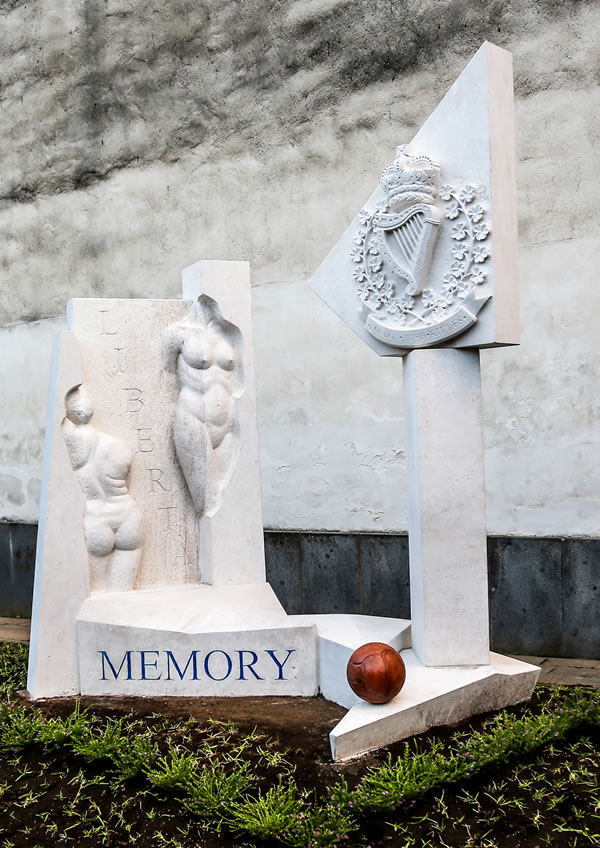 ---
QUICK LINKS.
Recent Events. News Articles. Regimental History. Museum. Pipes and Drums.
---
ASSOCIATION MEMBERSHIP.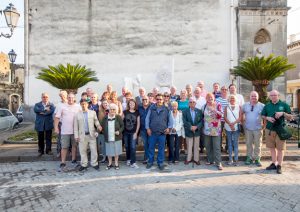 We have a thriving Regimental Association and our members take part in regular events as well as occasional battlefield tours. Our Welfare Team provides support to former and current London Irish Riflemen, liaising with external organisations, including SSAFA, on matters that require further investigation. Each year, members receive the journal of the London Irish Rifles, the 'Emerald', which has been published annually since 1949.
We also have a Northern Ireland Branch, which meets every three months in Newtownabbey, under the stewardship of Lieutenant Colonel Anthony Maher.
Read more about the activities of the Northern Ireland branch here.
If you or a member of your family has served with the 1st or 2nd Battalions, the war time raised (Young Soldiers') 70th Battalion or more recently with D Company, we would most certainly like to welcome you as an Association member.
---
THE LONDON IRISH RIFLES TODAY.
The London Irish Rifles now form D Company (London Irish Rifles), The London Regiment.
You can find an MoD link for D Company here.
---
REGIMENTAL HISTORY.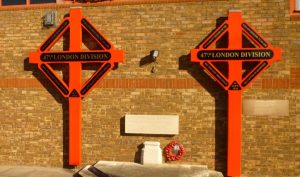 The London Irish Rifles was formed in 1859 and at that time was known as the 28th Middlesex (London Irish) Rifle Volunteer Corps. Numbered among the ranks of its first members were the Marquesses of Donegall and Conyngham, the Earls of Arran and Belmore, and also former Prime Minster, Lord Palmerston, who, at the age of 76, joined as a private soldier.
The London Irish Rifles would gain over 60 battle honours during the Boer War and in both World Wars – probably the Regiment's most famous battle honour was gained in September 1915 at the Battle of Loos, when men of the London Irish Rifles kicked a football into German trenches, thereafter entering immortality as 'The Footballers of Loos'. This event is commemorated by the Regimental Association every year on Loos Sunday at Connaught House.
---
THE PIPES AND DRUMS.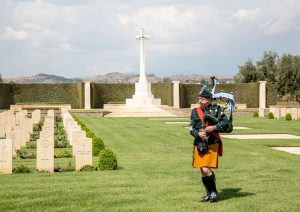 The Regimental Pipes and Drums was founded in 1906, and has been active within the umbrella of the Regimental Association since 1969.
Today, the Band takes part in many events including the various Regimental ones at Connaught House as well as joining in the 'The Lord Mayor's Show' parade through the City of London in November.
Read more about the activities of the Regimental Pipes and Drums and to find out how you could join the Band.
---
REGIMENTAL MUSEUM.
We have a Regimental Museum at Connaught House, which contains many interesting artefacts, including the original Loos Football, which has recently been re-conditioned.
Alex Shooter and Nigel Wilkinson are available at all Regimental Association events and they can provide you with further information on the history of the Regiment.
Read more about our Museum here.
---
OUR SOCIAL LINKS.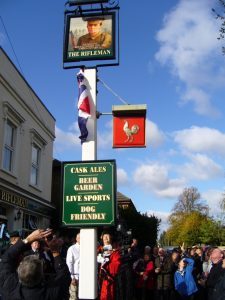 The London Irish Rifles has a well deserved reputation as a fighting Regiment…..at the same time, we are equally well known as being an extremely friendly bunch. Even during the midst of battle, it was reported that one of our riflemen walked into a bar in Loos on September 25th 1915, asked for a cafe au lait, drank it slowly and then picked up his rifle and returned to the fight.
So it is not surprising that we have excellent connections with three very fine hostelries:
Order a pint of the black stuff and enjoy the craic.
---
LONDON IRISH RIFLES SHOP.
We have a variety of items for sale at the museum and at Mulqueens, including a fantastic limited edition print of four eras of the London Irish Rifles (left), which was painted by renowned war artist, David Rowlands. There are also several books available about the Regiment, including the 'History of the Pipes and Drums' and 'The Footballers of Loos'.
Find what items you can buy at the PRI Shop here.
---
CADET DETACHMENTS.
The London Irish Rifles has Army Cadet Force detachments at locations in the South East sector.
---
RESOURCES AND USEFUL LINKS.
There have been a number of books written about the London Irish Rifles' rich history with some available from the Regimental Museum while others can be purchased from reputable book sellers.
You can find relevant web sites and further reading by following this link.
---
FINDING US.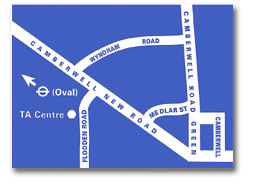 Connaught House is located in Camberwell, South London, and is easily accessible by car, bus, train and tube.
Find a full guide on how to visit us.