… to the web site of the LONDON IRISH RIFLES ASSOCIATION.
---

---
This year is proving to be an especially important one for the Association so try and keep in close contact with us, whether it by regularly visiting this website or coming along to one of our parade days. 
A very good Loos Sunday parade was held at Connaught House with members of the Association and the Army Cadet Force turning out in beautifully sunny conditions. We were especially thankful for the support that was provided to allow much needed refreshments to be made available for all attendees.
Members of the Association have also just come back from a very successful and highly emotional pilgrimage to Sicily to remember men of both battalions who were embattled on the island during July and August 1943.  Over the weekend of 17th/18th September 2022, the party attended a commemorative service at the CWGC cemetery in Catania and Memorial unveilings in both Piedimonte Etneo and Maletto. The week proved to be a marvellous weekend of contemplative reflection and we have now added some photographs here to the website. 
Lieutenant Colonel Anthony Maher VR
Chairman of the London Irish Rifles Association.
QUIS SEPARABIT
eMail: webmaster@londonirishrifles.com
twitter: @LIRAssn
---
13th November 2022 – Remembrance Sunday.
19th March 2023 – St Patrick's Sunday.
---
Please make sure you have provided an up to date postal address to our Membership Secretary:
membershipsec@londonirishrifles.com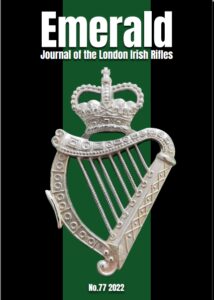 ---
---

Objectives:
To foster friendship and fellowship among all past and present members and associate members.
To afford financial assistance to past members of The Regiment and their dependents.
To administer and accept responsibility for The Band.
To administer and accept responsibility for the Regimental Museum.
To encourage all members to attend organised functions of the the Association and of the Regiment.
---
---
The Welfare Officer is contactable directly by eMail: welfareofficer@londonirishrifles.com.
---
---
LONDON IRISH RIFLES TODAY
On 1st May 2022, the London Regiment formally became 1st Battalion, London Guards and D (London Irish Rifles) Company now forms No 15 (Loos) Company, Irish Guards.
---
---
REGIMENTAL HISTORY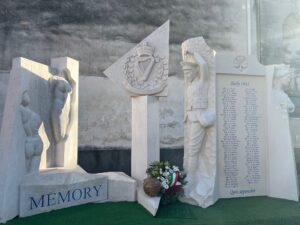 ---
---
THE PIPES AND DRUMS
You can contact the Band President by eMail: bandpresident@londonirishrifles.com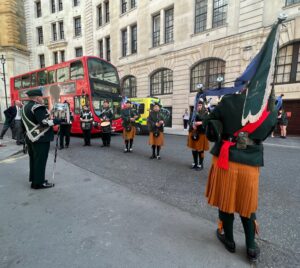 ---
---
REGIMENTAL MUSEUM

---
---
FIND US
Connaught House is located in Camberwell, and easily accessible by car, bus, tube and by overground train services.Find detailed directions
---