… to the web site of the LONDON IRISH RIFLES ASSOCIATION.
---

---
We are very saddened to learn that our former Honorary Colonel, Major General Sir Sebastian Roberts KCVO OBE, died on 9th March. We would like to send our deepest and sincerest condolences to Sir Sebastian's family.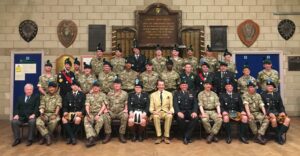 ---
The first parade of the year took place on Sunday 19th March to commemorate St Patrick's Day at Connaught House and was hosted as usual by No 15 (Loos) Company. There was a good turn out from Association members and the Army Cadet Force were resplendent in a new headdress. We were also able to both celebrate and drown our sorrows following the England v Ireland match in Dublin….a fourth grand slam for one, a gallant fourth place for the other.
Looking ahead now, we've confirmed the date of Saturday 13th May for ourAGM/Annual Lunch. Full booking details can be found by following the link.
During the coming year, we shall also be marking the 80th anniversary of the London Irish Rifles' outstanding contribution to total victory in North Africa in May 1943, then playing a leading role in the liberation of Sicily during July/August 1943 before progressing northwards along the west and east coasts of the Italian peninsula; by the end of 1943, the 1st Battalion had advanced from Naples to Monte Camino and the 2nd Battalion from Taranto to the Moro river. The agonies of 1944 at Anzio and Cassino lay just ahead.
The London Irish Museum will be attending the commemorations to mark the 80th anniversary of the invasion of Sicily (Operation Husky) in July and you can find full details here.
Keep in close contact with us, whether it by regularly visiting this website or joining the Regimental Association and coming along to one of our parade days.
Lt Colonel Ant Maher VR
Chairman of the London Irish Rifles Association.
QUIS SEPARABIT
eMail: webmaster@londonirishrifles.com
twitter: @LIRAssn
---
Sunday 11th June 2023 – Combined Irish Regiments Association.
Sunday 24th September 2023 – Loos Sunday.
---
Please make sure you have provided an up to date postal address to our Membership Secretary:
membershipsec@londonirishrifles.com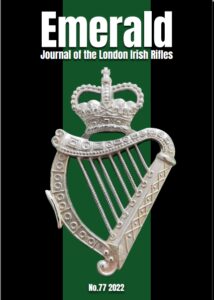 ---
---

Objectives:
To foster friendship and fellowship among all past and present members and associate members.
To afford financial assistance to past members of The Regiment and their dependents.
To administer and accept responsibility for The Band.
To administer and accept responsibility for the Regimental Museum.
To encourage all members to attend organised functions of the the Association and of the Regiment.
---
---
The Welfare Officer is contactable directly by eMail: welfareofficer@londonirishrifles.com.
---
---
LONDON IRISH RIFLES TODAY
On 1st May 2022, the London Regiment formally became 1st Battalion, London Guards and D (London Irish Rifles) Company now forms No 15 (Loos) Company, Irish Guards.
---
---
REGIMENTAL HISTORY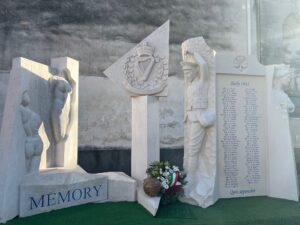 ---
---
THE PIPES AND DRUMS
You can contact the Band President by eMail: bandpresident@londonirishrifles.com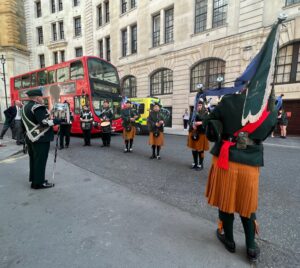 ---
---
REGIMENTAL MUSEUM

---
---
FIND US
Connaught House is located in Camberwell, and easily accessible by car, bus, tube and by overground train services.Find detailed directions
---