… to the web site of the LONDON IRISH RIFLES ASSOCIATION.
As an Association, 2022 is proving to be an especially important one in terms of mapping out the future of all our activities so try and keep in close contact with us, whether it by regularly visiting this website or coming along to one of our parade days. 
As you will know, the announcement of the Army's reorganisation has had a profound impact on the future of the serving company and this made our St Patrick's parade a time for reflection as well as provide a chance to celebrate the remarkable impact of the London Irish Rifles over the past 162 years. 
In May, the Association held an enjoyable AGM and Annual Lunch when we were able to renew old friendships, and, on a beautifully sunny June day, the Pipes and Drums led the 100th anniversary parade of the Combined Irish Regiments Association at the Cenotaph.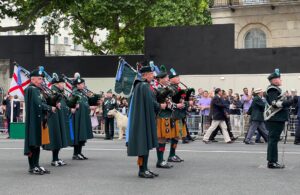 The next occasion for us to get together will be the Loos Sunday Parade, so please come along to join us in September.
Lieutenant Colonel Anthony Maher VR
Chairman of the London Irish Rifles Association.
QUIS SEPARABIT
eMail: webmaster@londonirishrifles.com
twitter: @LIRAssn
---
25th September 2022 – Loos Sunday, Connaught House.
13th November 2022 – Remembrance Sunday.
19th March 2023 – St Patrick's Sunday.
Timings to be confirmed.
---
The 2022 Emerald has now being sent out to subscribing members.
Please make sure you have provided an up to date postal address to our Membership Secretary:
membershipsec@londonirishrifles.com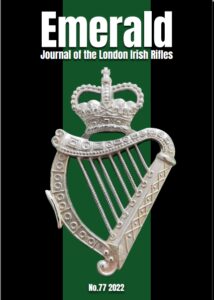 ---
---

Objectives:
To foster friendship and fellowship among all past and present members and associate members.
To afford financial assistance to past members of The Regiment and their dependents.
To administer and accept responsibility for The Band.
To administer and accept responsibility for the Regimental Museum.
To encourage all members to attend organised functions of the the Association and of the Regiment.
---
---
The Welfare Officer is contactable directly by eMail: welfareofficer@londonirishrifles.com.
---
---
LONDON IRISH RIFLES TODAY
On 1st May 2022, the London Regiment formally became 1st Battalion, London Guards and D (London Irish Rifles) Company now forms No 15 (Loos) Company, Irish Guards.
---
---
REGIMENTAL HISTORY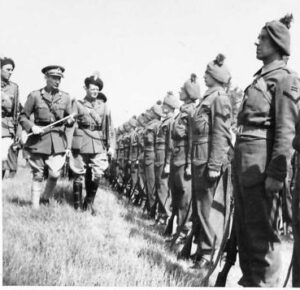 ---
---
THE PIPES AND DRUMS
You can contact the Band President by eMail: bandpresident@londonirishrifles.com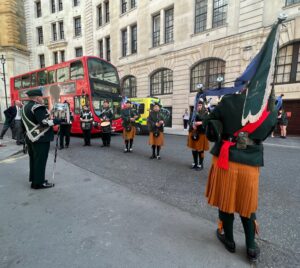 ---
---
REGIMENTAL MUSEUM

---
---
FIND US
Connaught House is located in Camberwell, and easily accessible by car, bus, tube and by overground train services.Find detailed directions
---