---
The Welfare Officer is contactable directly by eMail: welfareofficer@londonirishrifles.com
---
Welfare Notes – 2021.
My first order of business is to extend my heartfelt thanks to Dick Scott Kerr for his dedication and hard work over so many years. I think we can all agree that Dick has gone about his work with sensitivity and, indeed, good plain common sense and has dealt with each case in exactly the manner intended by the founders of the Benevolent Fund. Each and every beneficiary has much to thank him for – he has always responded quickly and efficiently and rendered aid exactly where it is needed. As an Association, we have been blessed to have Dick in post and being able to hand over the guardianship of the Fund in such rude health, which allows us to carry on such great work right across the London Irish family.
My second duty is a plea to you all as Association members. The current system of referral is "clunky", to say the least, due in part to recent changes introduced by SSAFA that involve a computerised referral system. This requires a couple of days of online training which is difficult to arrange between other commitments, so my request is that if you are aware of ANY welfare cases in which the Fund can help, please contact me directly. I retain strong links with the Serving Company through the Regimental Operations Support Officer of the London Regiment and my friends, who are still serving with the Company. However, I am keenly aware that some of our veterans who may have lost contact, and in current need, may be unable to access the support to which they are entitled. Welfare support is for you and your comrades-in-arms, no matter when or where you served or in what capacity. If someone wore our Caubeen, we are here for you.
As I say, the Fund itself is in a very healthy state but my one further wish going forward is that we continue to think how we can encourage additional inward investment from those able to contribute. I have a few ideas of how to go about this, but I would like to hear from more of you with other fund raising schemes so please get in touch with me.

FAB
Major Robert Denman VR
---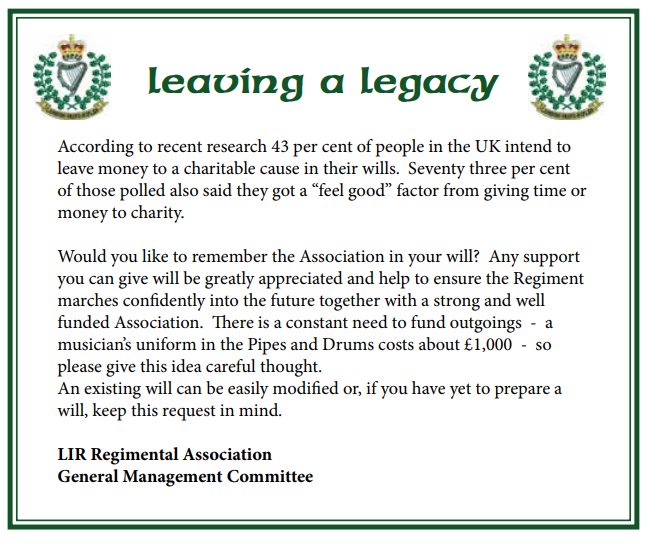 ---
Are the UK's soldiers and their families being properly looked after and who should be doing it?
It is the Government's responsibility and they must act on behalf of all of us which, if it means finding more money to equip our armed forces adequately and provide appropriate housing for those who serve and their dependents, then that must be found from within the budget or by higher taxation. The obligation of the Government and the nation in this regard is stated in the Military Covenant.
Attention to the concept of the Military Covenant has been markedly increasing over the last twenty years. In 2000 Maj. Gen. Sir Sebastian Roberts wrote "Soldiering" in which he set out the non-contractual but vital deal under which the military function. To quote briefly "Soldiers will be called upon to make personal sacrifices – including the ultimate sacrifice – in the service of the Nation. In putting the needs of the Nation and the Army before their own, they forgo some of the rights enjoyed by those outside the Armed Forces.
In return, British soldiers must always be able to expect fair treatment, to be valued and respected as individuals, and that they (and their families) will be sustained and rewarded by commensurate terms and conditions of service."
Pressures on service personnel with campaigns in both Iraq and Afghanistan caused all parties to the Military Covenant to question whether it was being honoured. By 2007 with a huge rise in public support for the military ("Help for Heroes" and the Royal British Legion's campaign "Honour the Covenant" launched that year) the Military Covenant was moving from being primarily part of the Army's ethos to a concept with which the UK Government and population were increasingly aware. By 2011, under the Coalition Government, the trust based Military Covenant, evolved over centuries, became the Armed Forces Covenant as part of the Armed Forces Act.
Newspaper reports of shoddy housing and poor maintenance endured by service families and endless press coverage of cut-backs to equipment supply suggests that the Armed Forces Covenant is not being given due attention. The Army is built on a philosophy of mutual support whether it is giving first aid to the man beside you, covering fire from one section for another or help within the regimental family. While one might question the Government's commitment to the Armed Forces Covenant, at least within the LIR family we can have confidence in mutual support.
For those who need financial help, the Benevolent Fund of the Regimental Association stands ready.
---
WHAT DOES 'Welfare' mean to us?
The Oxford English Dictionary offers: "the health, happiness, and fortunes of a person or group" and "organised practical or financial help provided, typically by the state, to help people in need". In the immediate and practical sense perhaps it means looking out for our friends and neighbours, since each of us should be active in ensuring the welfare of those around us. Alarmingly, recent research shows that in the UK only one in three of us knows the surname and work situation of our immediate neighbours and I'm sure an even lower proportion stands ready to lend a helping hand.
Few of us make sufficient effort to be supportive of those in need. Certainly in my case there have been long periods when paddling my own canoe has been the main concern. Recently, I have had the opportunity to make visits to two elderly people both in their mid-nineties resident in nursing homes and receiving palliative care. One is a London Irishman who served with the regiment throughout the Second World War and the other a lady who also served in uniform during that conflict. They are members of a dwindling generation who knew all about looking after others.
Those of us who follow must take up the banner. Members of the London Irish Rifles have a special extra duty in this regard. We must give support to other regimental family members as and when it is needed: it is a regimental tradition. In addition, we are fortunate, should it be necessary, to be able to call for financial assistance from the Regimental Association Benevolent Fund.
---