We have just been contacted by Association Member Greg Barry, who has passed us some further information about his uncle, Lieutenant Terence Barry, who died on 5th December 1943, while serving in Italy with the 1st Battalion, London Irish Rifles.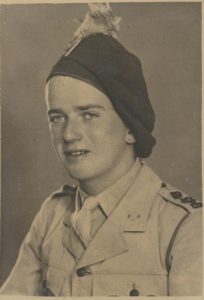 Terence Barry was born on 6 June 1921, the second son of Patrick Barry, an admiralty clerk, and his wife, Margaret, both of whom originally hailed from County Cork, Ireland.
Initially educated at St. Edward's Roman Catholic School, Sheerness, Terence won a scholarship to Borden Grammar School in September 1932. He proved to be an outstanding scholar, securing a Higher School Certificate – equivalent to today's A Levels – in no fewer than four subjects, a feat for which his name was inscribed on the Honours Boards in the Old Hall. Outside of his academic studies, he was appointed a prefect and vice-captain of Swale House. He left to read Modern History at Merton College, Oxford, but his university career was soon interrupted by the exigencies of the Second World War: while still a student, he served in the University's Senior Training Corps and then enlisted into a territorial battalion of the Royal Fusiliers.
Awarded second class honours in the first part of his degree, Terence was selected for officer training, emerging five months later with a second-lieutenancy in 1st Battalion London Irish Rifles (Royal Ulster Rifles). The battalion subsequently received orders to prepare for overseas service and, while on embarkation leave, Terence took the opportunity to visit his former teachers at Borden Grammar School. This was an event that one young schoolboy, Desmond Keohane, could vividly remember some fifty years later: in a letter to The Maroon, he recalled how "Terry Barry, a prefect in our first term at Borden, came into our English lesson with Mr Tempany in Room 3, resplendent in his officer's uniform, with a magnificent plume (hackle) in his beret (caubeen)"
Terence and his comrades were posted to Iraq in August 1942, and remained there for six months guarding the oilfields until ordered to proceed to Egypt in April 1943. Three months later, the battalion embarked for Sicily, seeing action here for the first time in bloody fighting south of Catania. Following the liberation of the island, Terence and his comrades arrived on the mainland of Italy in October 1943 to join the Allies' push north towards the "Gustav Line", a set of formidable German defensive positions that ran across the Italian Peninsula to the other, blocking any advance to Rome. One of the outer bastions of these positions was Monte Camino, rising some 2,700 feet above the surrounding valleys. Following the failure of a previous attempt to secure the mountain, the task fell to 56th (London) Division (which included the 1st Battalion, London Irish Rifles). The new assault on Camino began on 3 December 1943 and, after a number days of bitter fighting, it was eventually abandoned by the German forces.. A number of men from the London Irish Rifles lost their lives during the attacks, one of whom was Terence, killed by enemy mortar fire, while leading a patrol on 5 December 1943. He was twenty-two years of age.
Posthumously mentioned in despatches for his gallant conduct, news of Terence's death eventually reached Borden Grammar School and Kenneth Sears, a sixteen-year-old schoolboy at the time, clearly remembers the shock with which this information was received by the school community. Terence was initially buried in Mieli, a small village at the foot of Monte Camino, before being re-interred in Cassino CWGC War Cemetery; his name is also commemorated on the war memorials of Borden Grammar School, Merton College, Oxford, at the London Irish Rifles in Camberwell, and in Sittingbourne. 
'The London Irish at War' would add their own tribute to the memory of Terry Barry
"The London Irish were fairly fortunate in their casualties, which totalled about eighty. Among the killed was Lieutenant Terry Barry, a capable and gallant officer…"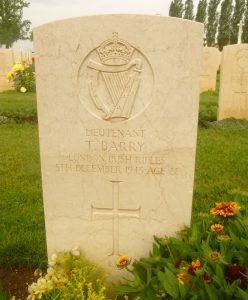 Quis Separabit.
---