---
At the outbreak of the First World War, the LIR raised three Battalions, one of which was held in reserve throughout the war:
– the 1st Battalion (1 LIR) was sent to France on 9th March 1915, with a strength of 29 officers and 1048 other ranks. In May 1915, due to illness, Lt-Col Concannon handed over command of the Battalion to Major Healy. Soon after, the battalion was sent into its first action at Festubert. At this time, Major Healy also became ill and he was compelled to hand over command to Major Beresford. During this early summer period, three riflemen received DCMs for defending their trenches against strong enemy attacks.
On 25th September 1915, the London Irish gained their most famous battle honour at the Battle of Loos, where they led their Division into action, and where Rifleman Frank Edwards and his comrades dribbled a football across No Man's Land before kicking it into the Germans' trench with a joyous shout of "goal". The battalion were able to lead their Division to overcome two lines of German trenches into the village of Loos, before withholding a massive enemy counterattack. During the battle, 5 officers and 66 other ranks were killed, and 4 officers and 144 other ranks wounded. 27 other ranks were also reported as being missing. During the latter part of 1915 and early part of 1916, the 1st Battalion was involved in desultory trench warfare with 15 men being killed in the first four months of 1916, and a further 33 in May in close combat against several German assaults. August saw the battalion involved in intensive training at Crecy, the sight of a previous famous battle in 1346.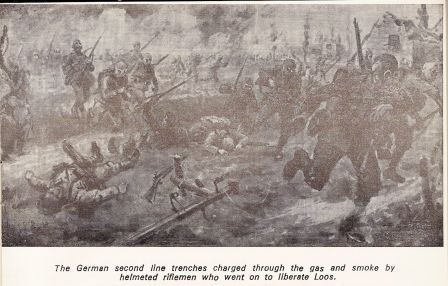 In September 1916, 1 LIR saw further action at High Wood during the Somme battles. 5 officers and 68 other ranks were killed with a further 150 wounded – partly due to the massive failure in the early use of tanks. The next month saw them move to the Yvpres region before entering the line there in November 1916, where 12 men were killed. In February 1917, Lt-Col Mahon, who had been at that time commanding the battalion, succumbed to illness and was replaced by Major (soon to be Lt-Col) DB Parry.
During the remainder of the early part of 1917, 1 LIR remained in the line, taking part in several actions in the Ypres sector. In August 1917, Lt-Col Parry was admitted to hospital and Major Murphy took over command of the battalion. They then took part in defensive operations at Bourlon Wood, near to Cambrai in November 1917, suffering gas attacks, which caused many, many casualties.
Due to heavy casualties, all infantry brigades were then reduced from four to three battalions, and the London Irish received a complement of 176 new men from the 6th Bttn (City of London Rifles). After the resulting reorganisation, 1 LIR took part in a successful defensive action against the massive German offensive push of March and April 1918, making a desperate defensive stand near to Neuville. During the summer of 1918, they were involved in several operations before again taking part in offensive action in August at Albert, near to the Somme. At this time, the offensive was led by Colonel Neely. 1 LIR was finally able to leave trench warfare behind for good in early September, and in October, they were involved in the final Allied offensive, entering Lille as part of a steady advance, crossing the L'Escault canal, and eventually firing their last shot on 7th November 1918.
Demobilisation continued from December 1918 to May 1919 when the final 100 men embarked for England, and they were officially welcomed home by the Mayor of Chelsea on 12th June 1919 at the Duke of York's HQ.
– the 2nd Battalion (2 LIR) embarked for France in June 1916, when it was commanded by Lt-Col WH Murphy with 34 officers and 938 other ranks under command. Initially they were stationed in a sector near to Vimy Ridge, and remained there until October. At one point in August, the 2nd Battalion with in front line close to the 1st Battalion,
After Lt-Col AE Norton took over command of the 2nd Battalion, they sailed for Salonika in Greece in late November 1916, landing there on 1st December. They remained in Greece for six difficult months, before sailing for Egypt during June 1917. After landing at Alexandria, they travelled by train to El Sahuth where they spent three months training in desert conditions. Their first action against the Turks on 31st October 1917 was during the attack on Beersheeba, where they were in the reserve brigade. Their first battle honour was "El Mughar" awarded for the Battle of Sheria in November. Later in the same month, they took part in the Battle of Nebi Samwil, near to Jerusalem, which eventually fell to General Allenby's forces on 9th December 1917. In late December, the battalion was ordered to occupy Kherbet Adasseh, but met very strong opposition there from the Turks, who had brought reinforcements from Anatolia and battalion strength was subsequently reduced to 130 men (from an original total of 972 in 1915). 2 LIR then joined the successful British advance in late December towards Jericho.
During the early part of 1918, 2 LIR took part in operations near to the River Jordan, with their final actions of the war taking place in early May 1918, further to the east of the river. The battalion was then disbanded and men were sent to strengthen battalions in the 10th (Irish) Division, which included 1st Leinster Regiment, 1st Royal Irish Regiment and 2nd Royal Irish Fusiliers.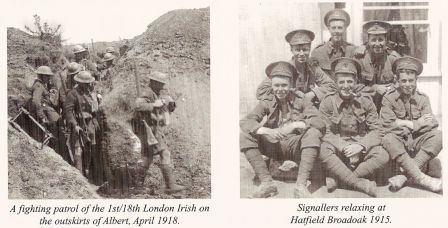 During the First World War, the London Irish Rifles:
– suffered a total of 1016 men killed in action with 2644 wounded and 303 captured.
– were awarded 7 DSOs, 33 MCs, 20 DCMs and 101 MMs to men of the Regiment, and
– gained 24 battle honours, that were added to that gained by the Regiment during the Boer War.
---