---
After the cessation of hostilities, the LIR was reduced to cadre strength, before being disbanded in May 1919 at Felixstowe. At that time, it was commanded by Lt-Col GH Neely, DSO MC.
On 16th February 1920, the 18th (County of London) Battalion of the London Regiment (London Irish Rifles) was reconstituted as a component of the 47th (2nd London) Division of the new Territorial Army, and in 1923, the designation of the Regiment was shortened to 18th London Regiment (London Irish Rifles).
In line with the prevailing mood throughout the country, several lean years for the Regiment ensued although an excellent spirit continued to be engendered by post war Commanding Officers, Colonels Mulholland, Gribben and MacNamara. During these years, ties between the London Irish Rifles and the Royal Ulster Rifles (RUR), which before 1921 was known as the Royal Irish Rifles, were greatly strengthened, and the London Irish became part of the Corps of the RUR in 1929.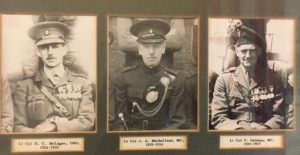 In 1937, when the London Regiment was disbanded, the LIR became known as London Irish Rifles, The Royal Ulster Rifles. After the 47th Division was also disbanded, the London Irish transferred to the 56th (London) Division. Permanent staff were all seconded or attached from the RUR, but up to 1937, the Regimental Sergeant Major was normally found by the Irish Guards – the first Rifleman to fill that office was Hugh Hynds, who later became a doyen of the Regimental Association until 1964. The London Irish was one of the first Territorial units to start mechanisation by drawing up two "Commer" trucks.
The Regiment's piper-green head-dress, the Caubeen, which was worn by all Irish regiments, and was characterised by being sloped to the left instead of the right — only the LIR and Liverpool Irish having theirs sloping on the left – was adopted for wear by all ranks in 1937 in place of the service dress cap.
In April 1939, the establishment of the Territorial Army was doubled and the 2nd Battalion, London Irish Rifles was reformed as a component unit of the 47th (London) Division.
A link to the Honorary Colonel of the Regiment inspecting the London Irish Rifles in 1931 can be found here
---