We recently received a note recently from Richard Berling about his grandfather Arthur, who was killed during September 1917.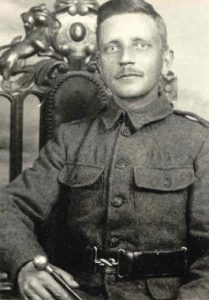 "My grandfather was listed as a rifleman who died whilst serving with the London Irish Rifles. He died on the 2nd September 1917 at Ypres and is buried at Mont Huon Military Cemetery. His regimental number was 6924 later 593990.
Rifleman BERLING, ARTHUR OSCAR
Service Number 593990
Died 02/09/1917
Aged 35
18th Bn.  London Regiment (London Irish Rifles)
Son of Andrew Berling, of 15, Albert Square, Clapham, London; husband of Dora Annie Berling, of 9, Rue Fontaine, Paris.
We only have one photo of him within the family and if it is of any interest for your archive collection I enclose it for your consideration. The reason for my grandmother's French address is that two of her sisters had married Frenchmen and when she received news of her husband's wounds she went across to France. I was wondering if someone within the Association can help me with another small matter. I enclose a poor photo taken many years ago of an honour roll and on the original I can just make out the name Berling A O. Years ago I was told it was taken at the Chelsea HQ long before it's redevelopment? "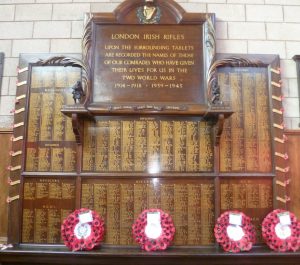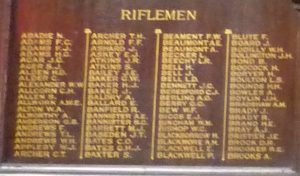 Quis Separabit.