I do hope my note this year finds you all well and in good health
In comparison to last year, the past year seems to have been an extremely quiet one for the Regimental Association but, that being said, we did see excellent turn outs at the Parades on both Loos and Remembrance Sundays and on St Patrick's Day.
From a personal point of view, St Patrick's Day this year was slightly different as "The Beast from the East, Part 11" had just taken hold and was in full swing that morning, so I had no way of getting out of the village, except on foot!! To ensure I didn't totally let the Regiment down, Karen and I were able to trek to the public house in the next village for a pint of the black stuff to celebrate the occasion!! Thanks must go to Colonel Ian Denison for standing in for me at the last minute.
Whilst on the subject of Parades, I was very privileged to be invited to represent the Association at the annual Founders' Day parade at the Royal Hospital Chelsea in early June – it was a most moving and memorable day watching the veterans on parade, and you do realise how old you are getting when some of the pensioners are wearing both Falklands' campaign and Iraq medals!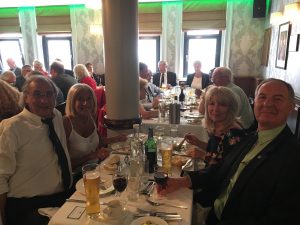 This year, our Annual General Meeting and Lunch was held on Saturday 16th June with over 50 members sitting down for lunch. It was a great afternoon and it was lovely to see Nigel Wilkinson and his devoted wife Sandra back this year. It is fair to say that I was more than happy to be able to complete my speech this year!!
As always, I would like to take this opportunity to express huge thanks to all the members of the General Management Committee for all the hard work and commitment they have shown over the past year. Despite our relatively small Regimental Association, we continue to offer excellent services and support to our members, their families and within D Company and across the London Regiment – though in the main this support is not widely spoken about.
Our Welfare Officer deals with a wide range of cases each year, our museum is thriving and growing and our website is much more informative than others I have looked at. One current slight negative is that The Pipes and Drums are currently struggling but plans are in place to remedy that situation. For the first time in a number of years, we now have in place an Honorary Treasurer, Auditors, Trustees, a full Museum team, a Website Administrator and Welfare Officers, all of whom volunteer their time to ensure that the name and traditions of the London Irish Rifles continue strongly after nearly 159 years. Without them, our Association would not be able to function, so my thanks go out to everyone involved. While on the subject of the General Management Committee, I would also like to welcome back Kevin Hyland who has recently re-joined the committee.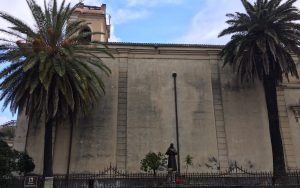 Looking to the future, we have received recent formal confirmation from Sicily that there will a commemoration of the Loos Sunday Ceremony that took place in Piedimonte Etneo on 25th September 1943 and attended by our 1st Battalion. This event will take place on Sunday 9th September when a commemorative plaque will be attached to the church opposite the LIR Memorial in the town. Those who do attend on that day will certainly be guaranteed a hospitable welcome in line with the finest Sicilian traditions.
Also, to let you know, there will be a proposal at the next GMC meeting to organise a return visit to Loos next year in September. It will be similar style to the visit back in 2015, though necessarily on a much smaller scale, and will include local battlefield tours, visits to the CWGC cemeteries and a Regimental style dinner. Full details of our plans will be published on the website as soon as they are confirmed.
Finally, on behalf of the Association I would like to send our heartiest congratulations to Acting Brigadier Mike Keating both on his recent promotion and, perhaps more importantly, for being awarded the CBE in the recent Queen's Birthday Honours List. I know that his Mum and Dad, Bridget and Bob, would be extremely proud parents at this time, as we all are, right across the London Irish Rifles' family.
I wish you all a great summer and let us hope the sun continues to shine and I look forward to seeing you at an Association event over the coming months.
---
Late News.
It is with great sadness that, as I finish writing my notes, I have been informed of the death of our Association President, Major General C.W.B. Purdon CBE MC CPM.
Like many of you, it is with great fondness that I remember General Corran, such a highly respected man, who will never be forgotten for his service and loyalty to the LIR both as Honorary Colonel to D (LIR) Company 4 R. Irish Rangers and also President of our Regimental Association for the past quarter of a century.
It was a privilege to have known him and a person I shall most certainly never forget.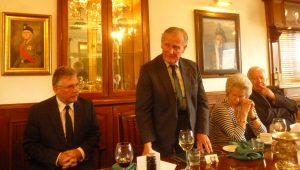 Quis Separabit.
Peter Lough.
June 2018.
---