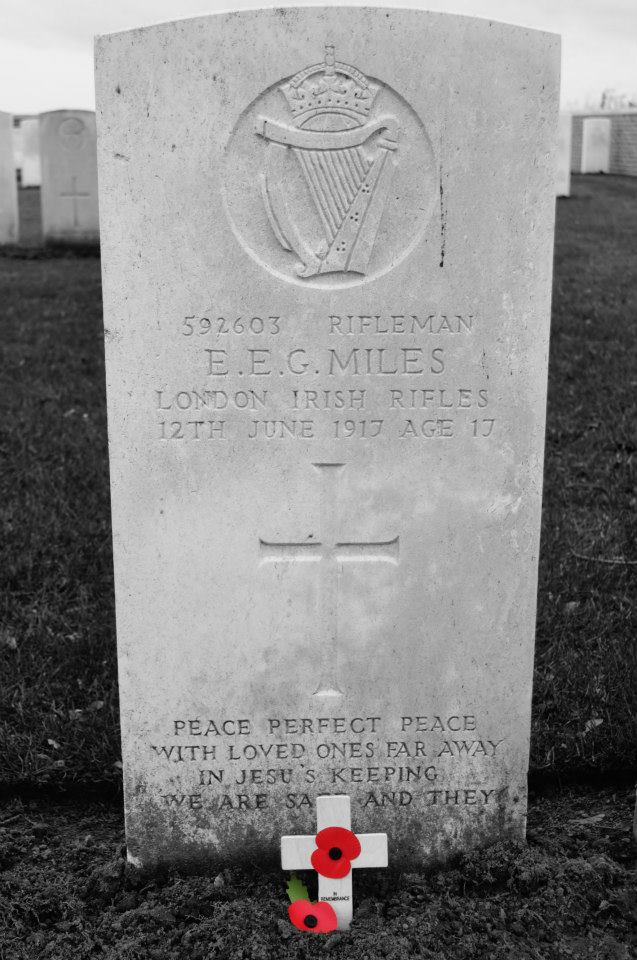 We recently received a note from the great niece of Rifleman Ernest Miles who was killed while serving with 1/18th Bttn, London Regiment near Ypres during June 1917.
A remarkable element of Rifleman Miles' story is that he is listed by the CWGC as being aged 17 years at the time of his death.. but, in fact, the family believe he may actually have only been 16 years old.
In her note to us, Nathalie Lemley explained,
"My great great Uncle, Ernest Elgar Gordon Miles, was a Rifleman (592603) in the London Irish Rifles 18th Battalion and was killed on 12 June 1917 in Belgium when aged 17. I am very keen to find out more about him and what happened to him when he went to war (family legend is that he was killed within three weeks of leaving home although I don't know of anyone who can confirm this). I have looked at numerous websites, and have visited his grave a couple of times, but unfortunately I seem to have limited information about him and
cannot find anything new…. most of all, I would love to see a photograph of him. Hoping you can help me.
I have attached a photograph of his grave, taken in November 2013, at Chester Farm Cemetery, Belgium. I like to visit every year to leave my poppy…"
Nathalie described some further family background:
"Ernest was the youngest of eight children… and I did see today on Ernest's birth transcript that he was born in the third quarter (I presume either July, August or September) of 1900 so that actually made him just 16 when he was killed although his headstone states that he was 17, so we can only come to the conclusion that he lied about his age, or that he was a little more honest and the recruiter signed him up anyway.
Chester Farm is such a peaceful, small, cemetery and I did see a couple of other LIR soldiers' graves (a total of eight London Irishmen are buried there). I visited again just after Christmas and it was touching to see not only Uncle Ernest's grave but also poppies and wreaths on other LIR graves. I think it is so important that these men are always remembered, even though we have never met them. Uncle Ernest is part of my family just as much as my living relatives."
Quis Separabit.