Category Archives:
Uncategorized
---
On the occasion of Father's Day, we are pleased to have received a note from Les Beattie, the son of Corporal Marcus Beattie who served with the 2nd Battalion in the UK, North Africa, Italy and Austria.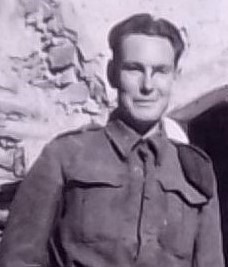 "My father was born on 19th March 1921 in Belfast, N. Ireland.
He served in the Army from 11th March 1939 until 7th August 1946 (Royal Ulster Rifles 1939-1940), then in the 2nd Battalion, London Irish Rifles (1940-1946). During this period, he took part in various campaigns including those in Tunisia and Sicily and at Monte Cassino amongst others.
While taking part in the Monte Cassino battle, Dad was wounded on 16th May and spent a few days in hospital before returning to service. Rome was liberated on 4th June 1944 after a 8 week battle at Monte Cassino and he did mention marching into Rome and seeing Pope Pius XII at St. Peter's.
Following the war, he transferred from the RUR to Army Emergency Reserve on 8th August 1946 and served for almost 20 years until being discharged on 14th July 1966.
For his service in the war, Dad was awarded the 1939-45 Star, the Africa Star, the Italy Star, the War Medal 1939-45 and the Defence Medal.
After the war Dad married my Mum (Kathleen) on 21st August 1953 and I was born two years later' He then worked as a postman for over 25 years before retiring in 1986.
Unfortunately, in March 2019, Dad had a fall from which he mostly recovered, though, sadly, he had a stroke while in hospital and passed away three weeks later on 13th June 2019 (at the ripe old age of 98).
Sometime after Dad died, I applied for and received his war records which filled in a few blanks but didn't really give much new information. I also discovered a box containing documents related to Dad's time in the Army, neither Mum nor I knew these existed.
Documents found include:
– A booklet entitled "The Road Home" containing details of the long journey taken homeward bound after the war ended, starting in Austria, going through Germany and France and ending in Calais.
– An Order of Service (front cover shown below) for a "Final Parade Service of 2nd Battalion The London Irish Rifles (RUR) on Sunday 20th January 1946 in The British Church, Villach, Karnten, Austria".
Also found were Dad's diaries for 1943/44 – he was a very private man so the contents will remain so,. Suffice to say, reading some of the entries, I am not surprised Dad did not talk about the experience. Another, fascinating discovery was a number of photos taken In Italy 1943/44, Dad was a keen photographer but I have no idea how the camera was transported safely or even survived in what I can only guess were extremely dangerous circumstances. Some of the photos are shown here, including the captions Dad had written on the back of the photo.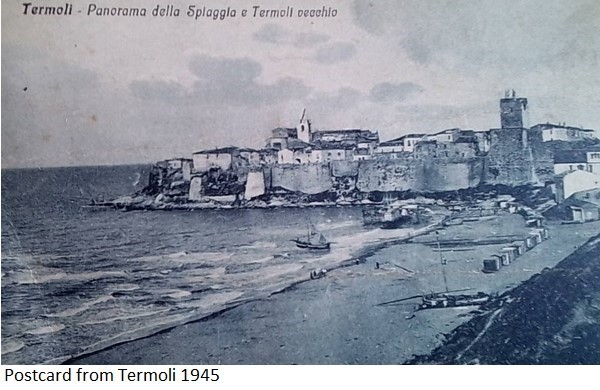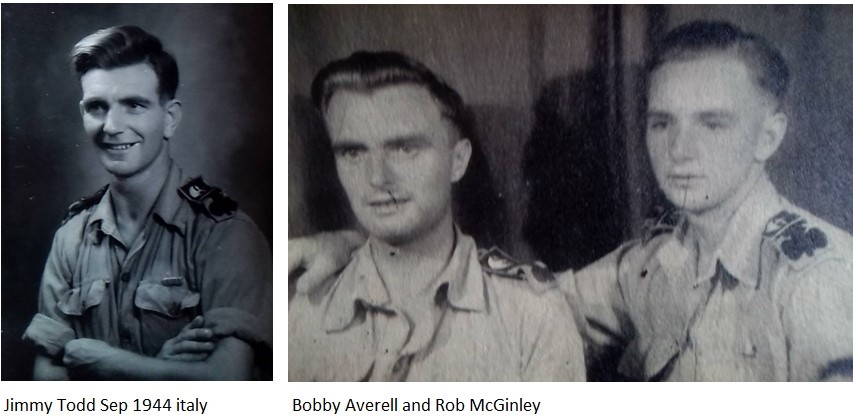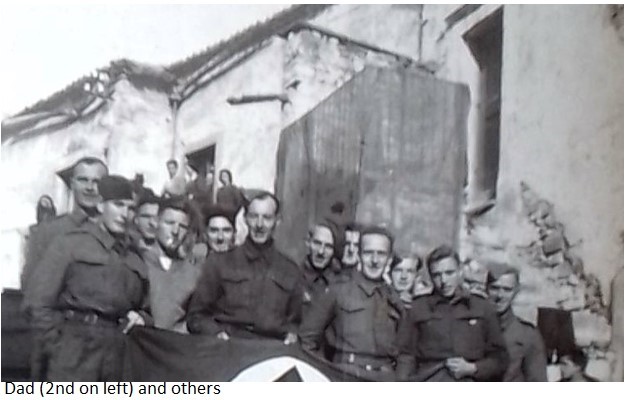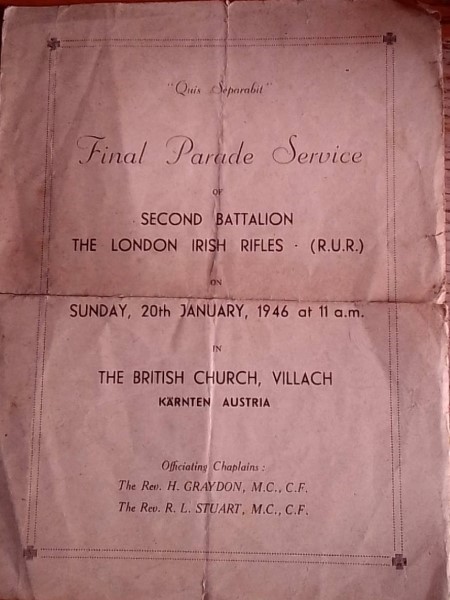 Even aged 98, Dad was still sharp as a tack. We all thought he would make it to the 'Big 100' and receive the infamous telegram but it was not meant to be. But what a remarkably long life. I believe he enjoyed every moment apart from, perhaps, the 1939-1945 years that he rarely mentioned. Such a shame as I'm sure he had lots of tales I would have loved to have listened to.

Happy Father's Day, Dad. You are missed always by Mum and I. Leslie x"
Quis Separabit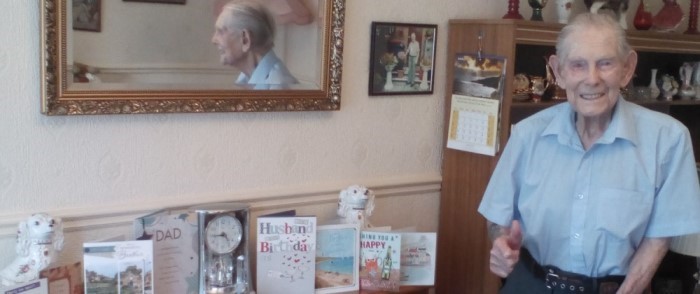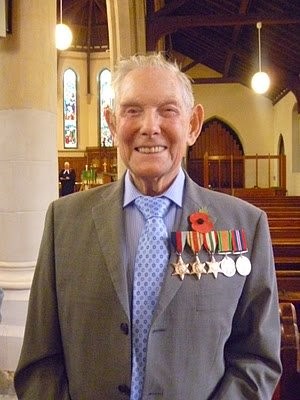 ---