I hope that when you read these notes, all my fellow members of the London Irish Rifles are in good health.
We have had some exciting times over the past few months.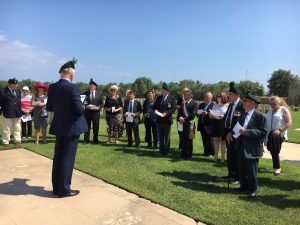 In the autumn, an Association party enjoyed a most successful pilgrimage to Sicily, where we were welcomed with great enthusiasm by our friends in Piedimonte Etneo and, in particular, by Doctor Felice Vito Vitale who, along with our own Richard O'Sullivan, organised an extremely memorable trip.
To start our visit, we held a Service of Remembrance and laid wreaths at the CWGC cemetery in Catania, before attending meetings and presentations hosted by the Town Council of Piedimonte Etneo. There were battlefield tours around Centuripe and in the Fosso Bottaceto area, which were led by Richard, before adventurous and relaxing visits to Mount Etna and Taormina, the town which hosted the recent G7 summit meeting in May. I assume Donald Trump and the other world leaders thought that if it was ok for the London Irish to visit, then they should go there too!!
A particular highlight was our visit to the house owned by Mrs Agata Pennisi, which had been used in September 1943 as the Battalion Headquarters for our First Battalion. Agata and her family made our party extremely welcome and Pipe Major Rob Williams piped us from the coaches along the driveway right up to the house. It was a lovely afternoon and our thanks go to Agata and her family for welcoming us in the way they did, as well as providing us with a lovely Sicilian lunch.We would finish our five day trip with a Regimental style dinner, where we were able to properly thank all those involved in making the trip such a success.
Parade days on both Loos and Remembrance Sundays came around under a cloud of some uncertainty as there was some speculation that these could be the last parades at Connaught House as the rumour mill had been rife with the story that the Company was soon to be on the move due to the Army Review A2020(R) – Wait out!! was the order on that as no one really knew or could actually tell us what was going on…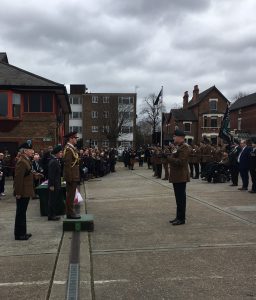 St Patrick's Day this year was altogether different, Major Dick Scott Kerr had been working tirelessly over the past two years gathering contact details for those who had served in D (LIR) Company over the years, as 2017 would be the 50th Anniversary of its formation. The day turned out as a most successful one for the Association with more than 50 members on parade and even more spectating. I hope this excellent support for the Association continues throughout these uncertain times.
Earlier this year, Karen and I would attend a dinner in aid of the fund raising for an LIR soldier, Jonathan Beck, who had been seriously injured two years ago at his place of work. He has undergone many operations and rehabilitation sessions which we follow very closely on social media. The dinner was organised by Corporal Frankie McCabe who, apart from being a regular visitor to Jon whilst he has been in hospital and facing rehabilitation challenges, has also been a great support to his family. All expectations in his fund raising that evening were exceeded and the money was soon passed onto Jon's family. I think Frankie's example should be an inspiration to all of us, and it's great to see fellow comrades helping each other in a time of need, and it goes without saying that we all wish Jon a continuing recovery.
Due to problems with the kitchens at Connaught House, our Regimental Association AGM and Annual Lunch was held this year at the Civil Service Club in London. We have used this venue in the past for our lunches and the location seems popular with members.
The AGM went well with nothing untoward cropping up. The General Management Committee was voted back in, with Colonel Ian Denison MBE being confirmed as Vice Chairman and Tony Robinson coming back onto the Committee as Events Officer. The lunch was a great success but events came to an unexpected end when Nigel Wilkinson suddenly fell seriously ill. I would like to take this opportunity to thank all those who came quickly to his assistance and supported him while we waited for the paramedics and ambulances to arrive.
I feel I ought to take some responsibility for the aforementioned events, which occurred as I was about to start the speeches, and it seems clear that Nigel was not looking forward to them!! On a more serious note, Nigel has now completed a stay in hospital where he faced a heart major operation and I'm pleased to report that, at the point of writing, he is very well indeed, in good spirits and recovering at home, undoubtedly supported by his devoted wife Sandra. We wish them both well and Nigel a most speedy recovery, and look forward to seeing him at next year's AGM – perhaps next time, may I request that he actually stays for the speeches!
I would like to complete my reflections by thanking all those who have previously or are still serving the Association in many capacities – be that by supporting the Band, our Museum, undertaking Welfare duties, and serving on the General Management Committee. I would also like to express my sincere thanks and appreciation to our permanent staff – Bish, Barbara, Sammy – and to Major Bob Brown, OC D Company, for all the continuing support that they provide to the Association.
In these ever changing times, we must ensure that the London Irish Rifles Regimental Association continues to support the serving Company in all their endeavours and operational tours for many years to come. The Company and Association have faced many changes over the past few years and have always been able to overcome and adapt to them. I sincerely believe that we can overcome and adapt to any additional challenges in the future.
Peter Lough Major (Retd)
---