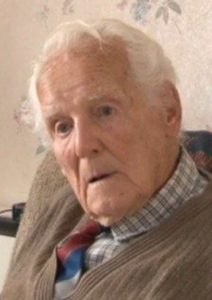 Sidney Swift, who served with the 1st Battalion, London Irish Rifles (1 LIR) in Iraq and Italy during the Second World War lived almost his entire post-war life in Wisbech, Cambridgeshire where he married Mary (née Sheppard), whom he had met in the dancing school. Until his retirement in 1979, he had worked as a compositor for the printing firm of Balding & Mansell.
He and Mary raised their two children in Wisbech, but his first memories were of London. Sidney was born in Brixton, and as a child he frequently visited Jack Massey, his paternal grandfather, who has been described as 'the last of the great bare-knuckle boxers'. After attending Tenison's School in Leicester Square, he moved with it to a new site next to the Oval. The location afforded tantalising half-views of test matches. Once the library had closed, Sidney and his schoolmates would irritate the bus conductors by hopping on and off their vehicles as they passed alongside the ground, in the hope of glimpsing a wicket from the upper deck. Sidney's lifelong love of cricket was only slightly tempered by regrets that he once casually turned down special training sessions from the England bowler, Alf Gover. Sidney's father, who had been injured at the Somme, moved his family to the peaceful Buckinghamshire village of Monks Risborough, but the rural idyll was soon interrupted by the outbreak of a second world war.
In 1939, Sidney joined up with the Royal Sussex Regiment before transferring to the London Irish Rifles and in August 1942, after three years of training and home front duties, he embarked from Liverpool with the 1st Battalion and they passed by Freetown and Cape Town en route to Bombay before finally arriving at Basra in Iraq. 1 LIR's new role was to join the Persia and Iraq Force (PAI Force) in protecting the oil fields near to Kirkuk.
In April 1943, 1 LIR left Iraq and spent three months training in Egypt before landing in Sicily in early July. Here, the battalion was involved in bitter fighting at Fosso Bottaceto just to the south of Catania, Sidney lost many of his friends and colleagues there, and he recalled helping to bury his platoon comrades Rifleman Horace Savage, Rifleman Pearton and L/Cpl Biggs in a ditch. It was only in recent years that it emerged that Rifleman Savage did not have an official grave, although his name does appear on the memorial wall at the Cassino CWGC cemetery, and this was something that Sidney continued to feel very strongly about.
1 LIR travelled to mainland Italy in October 1943, before taking part in fighting at Monte Camino and at the Garigliano River, before the battalion was transferred to Anzio in February 1944. It was here that Sidney was taken prisoner, and was then transported on the back of a lorry to Rome, before being transferred by rail to the Stalag camp at Torun, which is now in Poland. Sidney would say that the hardships and privations he experienced during his months of captivity helped him to get through life at its difficult moments, and indeed he bore the occasional indignities of old age with great courage.
In recent years, Sidney's shock of white hair was easily spotted in his home town, as he travelled across the market place on his buggy, or he could be found at home sipping a sherry and listening to band leader Bert Ambrose, or devising some homespun contraption in his shed.
The embodiment of the polite values of a bygone age, Sidney was loved and respected by all who knew him. His wife and son predeceased him. He leaves behind a daughter, grandchildren and great-grandchildren.
A link to an ITV interview with Sidney can be found by clicking here.
QUIS SEPARABIT.
(thanks are due to the Cambridgeshire Times).