CYRIL ILETT: 8TH NOVEMBER 1924 – 18TH JULY 2014.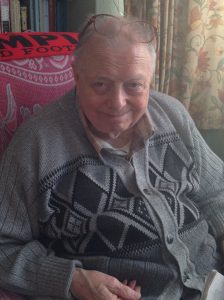 Cyril Ilett served with the 1st Battalion, London Irish Rifles during a period of bitter fighting in the Anzio Beachhead, where he was severely injured during early 1944.
Cyril leaves his wife, Joan, and their three children Rosie, Alison and David.
In a most remarkable and moving occasion during the recent Association pilgrimage to the Italian battlefields, Cyril's family shared their father's story with the joint London Irish Rifles' and Royal Fusiliers' group. Our thoughts and thanks for the actions of Rifleman Ilett and his friends and comrades at Anzio were further illuminated by the wonderful piping of Pipe Sergeant Williams.
The Ilett family have shared some further memories of their father with us here:
"One of the defining events of Dad's life was his time as a Rifleman with the London Irish Rifles during the Second World, which changed him physically and mentally for the rest of his life. It's something that we knew little about until recently when we (Alison, Rosie, David and his wife, Jeanette) went on the Regiment's 70th Anniversary Pilgrimage to Anzio.
Being there meant that we understood much more about what Dad had experienced. We had learnt little from him over the years because he hadn't really wanted to talk about it. He was really interested though to hear about our trip and see the photographs and very appreciative of the messages we brought back to him from members of the regiment.
Dad had been too young for active service when the war started and was initially in the Home Guard. (If you imagine Pikey from Dad's Army, I don't think you'd be far off the mark). When he was old enough, he was enlisted into the London Irish Rifles and sent to Omagh for training. At that point it seems he was still a rather wayward teenager getting into scrapes. He told Alison once about a few of the escapades he got involved in but afterwards she was sworn to secrecy! As well as learning to handle a rifle and learning some discipline, he was also trained as a radio-operator, but was never called on to use this skill.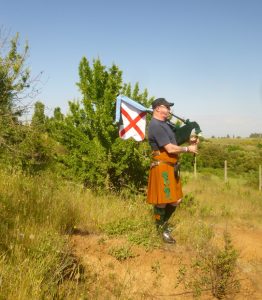 Then suddenly in February 1944, this raw recruit, just 19 years old, was shipped out from Greenock to some unknown destination and he found himself on the Anzio beach. There followed a hellish fortnight during which Dad didn't know what day it was or exactly where he was, but was under bombardment day and night. He had rather confused memories of constant shelling and strafing raids followed by helping to deal with the bodies of fallen comrades. He also remembered unexpectedly coming across German soldiers when searching what looked like empty buildings.
After around two weeks of this, our Dad was helping to dig a trench when a mortar hit nearby. The men on either side of him were killed outright. Dad had a number of injuries, including a leg severed at the foot by shrapnel and the war was over for him.
Even though he then spent many months in hospital in three different countries and was disabled for the rest of his life, he was one of the lucky ones. Like so many others, his life could have ended there on the beachhead. We are all thankful that he had another 70 years to enjoy."
"Soldier, rest! Thy warfare o'er,Dream of fighting fields no more:
Sleep the sleep that knows not breaking
Morn of toll, nor night of waking."
Sir Walter Scott
Cyril's funeral will be held at 2.20pm on Wednesday 30th July at Hanworth Crematorium, Jameson Chapel.