AUGUST 1928 – JANUARY 2014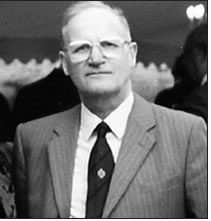 BRIAN DOLAN was commissioned into the Kings Own Royal Regiment in 1946 and joined us in 1948, having written whilst on demob leave, to the Duke's' to enquire whether they had a vacancy for a subaltern. He was called in for interview with the CO, Lt Col Viscount Stopford and the Adjutant Capt, (later Maj), Sir Christopher Nixon Bt. Brian didn't think the interview went particularly well but felt that his father's service in the Connaught Rangers 1906-1919 could have tipped the balance in his favour.
The officers' Mess that Brian joined was truly vintage, John Cantopher, Basil Irwin, Harry Gallagher, Dick Haig, 'Rooter' Grace, Desmond Fay, Noel Dorrity and Cyril Rand are just a few names that will give you the flavour. Brian spent several happy years as a platoon commander and during that time in 1950 married the love of his life Margaret and four years later adopted their son Paul. Increased responsibilities at work with the Licenses and General Assurance Company eventually meant the end of part time soldiering. However, Brian still found time to serve for many years on the General Management Committee of the Regimental Association and in 1979 took over as Hon Treasurer of the Officers' Club.
Whilst living in the family home in Catford that he shared with his parents Brian sang in the Holy Cross choir and attended the Aquinas Centre where he made many friends. Perhaps inspired by Noel Dorrity and Mike Powell he also played Rugby at the London Irish Rugby Club. Brian was a member of the Edward Elgar Society and with Margaret enjoyed visits to Malvern. He was also a volunteer at the Royal College of Music.
In 1982 Brian and Margaret made the difficult decision to move from Catford to the rural bliss of Keston. After three happy years Brian retired, ostensibly on health grounds, but really to care for Margaret who had been diagnosed with breast cancer. After Margaret died life was never quite the same for Brian, but he continued volunteering and pursued his interest in genealogy helping countless people around the world to trace their family histories, until failing eyesight forced him to give up.
As secretary of the Officers' Club I kept in touch with Brian, who never failed to respond to my invitations to social events, usually with a generous donation! For some years he had been unable to attend due to an escalation in ill-health. Brian always typed his replies on the return slip, here is his penultimate reply:
Dear Nigel, Thank you for your Christmas Lunch Notice and your kind offer re. Transport. I am afraid I only go out locally for short periods now: treatment continues for advanced prostate cancer, plus angina, stage 3 chronic kidney disease, diverticulitis and vaso-vagal faints. Otherwise in pretty good nick! Not planning to go yet. Cheque enclosed towards the expenses of the day.
Greetings to all, Brian
PS. Don't laugh – I'm forcibly tee-total now – my Baptist lady GP is pleased.
NBW.