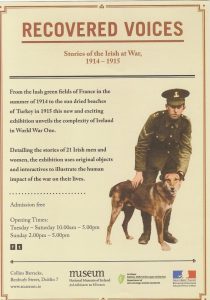 We were delighted to be visited recently by Lar Joye, the Military Curator from the National Museum of Ireland (NMI) in Dublin.
Lar was in London to give a lecture for the National Army Museum about the involvement of Irish men and women during the First World War and took the opportunity afterwards to visit Connaught House and enjoy a short tour of the Regimental Museum along with Curators, Alex Shooter and Nigel Wilkinson.
The NMI at the Collins Barracks has recently opened a new exhibition 'Recovered Voices', and this includes the detailed stories of 21 Irishmen and women, who took part in the First World War.
Within the exhibition, there is a section on Rifleman Ralph Summerland, who served with the 1/18th London Regiment (London Irish Rifles) before being killed at Loos on 21st October 1915. Rifleman Summerland, who lived in Willesden, is buried at Dud Corner Cemetery.
Further details about all exhibitions at the NMC can be found by following the link here.