---
It was fortunate that the day the long awaited offensive started on March 21st 1918, the weakened 2nd Division was replaced by a trained counter-attack Division, the 47th (London) TF, veterans of Loos, High Wood and Ypres. The handover between the two divisions was actually in progress when the enemy bombardment started. The London Irish were in the line at the La Vacquerie Sector. Their CO was Lt Col G H Neely DSO MC, who had taken over in December. In the early hours of 21st March, the Battalion's 'A' and 'B' Companies in the front line trenches came under heavy shell and gas attack.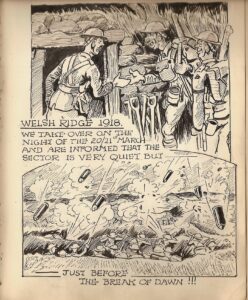 RSM Harry Tyers, wrote this compelling narrative of a series of chaotic rearguard actions against fearful odds:
"This is an account of the 1918 retirement, and I can claim to know a great deal about this as I was the senior bloke, apart from the Quartermaster to come through the whole business from start to finish. The Battalion had been in the neighbourhood of Ytres (south west of Cambrai) for some time prior to 21st March and we had a good idea that Jerry anticipated making his breakthrough. I was RSM at the time and in that capacity went up to Welsh Ridge in the afternoon to take over from the Fusiliers.
Then, before dawn about 3am on the 21st the enemy bombarded all along the line and runners came through to HQ to say that 'A' Company were being smashed up. Gas shells and big stuff was raining down close to Battalion HQ, which however, was fairly secure. As soon as dawn broke, Col Neely called me and said that we should try and get through to the front line. He went with one party of battalion HQ staff; and I with another small crowd. My party slid over the ravine and endeavoured to reach the front line but was stopped by intense gunfire, but eventually reached an isolated party from 'A' Company who informed us that Jerry was in a portion of the line. On returning to battalion HQ, I told the CO that 'A' and 'B' Companies were withdrawing as soon as dusk fell. I loaded up all the ammunition and bombs and punctured all the water tins and destroyed all the rations. It was a calm night, but with Verey lights going up on our flank it looked as though Fritz had got right through. The remnants of 'A' and 'B' Companies came to Battalion HQ. The amusing incident to my mind was the fact that CSM 'A' Company, (Harry Tyers' old company), – one Tommy Cave – had paid his initial visit to the line, and I asked him how he liked real war. Poor Tommy, who was sweating blood, shook his head disconsolately, and enquired if there was any rum about! Tommy was taken prisoner shortly afterwards.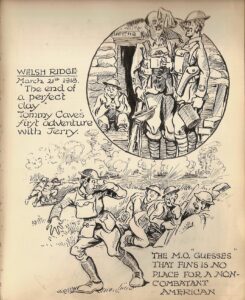 Col Neely withdrew his front line companies to avoid further losses. Shortly afterwards, the Brigade withdrew to new defensive positions. They were then attacked by enemy infantry in large numbers from the direction of Villers- Plouich. Rapid fire from the battalion's rifles and Lewis Guns repelled the attack. However the withdrawal of the 9th Division left 47th Division's flank exposed so they were compelled to fall back to Rocquigny."
Harry Tyers continues his story:
"At dawn on 22nd (March), Jerry came over again. Our boys however, were 'real hot' having last night's smashing in mind and mowed down the oncoming Germans like ninepins. At Villers-Plouich, which was actually on the ridge – just a few old bricks – we even counter-attacked and gave the Boche a real hiding. We could have held on indefinitely, but orders came through that we were to vacate the position in the night, as we should be entirely cut off. Again we slid out – by this time sadly decimated and were told we were to take over the last line of defence. Eventually found it, but it wasn't a trench… but a shallow depression in the ground about three feet deep and 10 feet wide. We packed down, and shortly afterwards the enemy appeared in thousands. They came on in extended order, line after line – and we fired until our rifle barrels were hot. It was here that I was able to do a little bit – being instrumental in putting a Jerry machine-gun (which was hammering our right flank) out of action with a few bombs and for which I was given the DCM. The enemy was too much for us and we were told to prepare to retire and the Welsh Fusiliers (our Pioneer Battalion) would cover our retirement. After this things became very confused. I woke up out of a trance, I think, and saw the Welsh Fusiliers legging it past me and Jerry following closely. Needless to say I legged it too, but had to rest every few hundred yards until leaving this enforced rest too long, was nabbed by a Jerry, but got away."
The fighting withdrawal continued through Neuville and Ytres until on 25th March they found themselves once again at High Wood. The remnants of 141 Brigade took up positions on the high ground at Contalmaison and held them until the Division was ordered to withdraw across the River Ancre at Aveluy.
Harry Tyers goes onto say: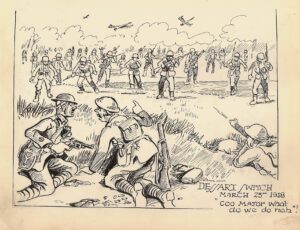 "…returned to Lechelle there was a glorious scrap in the wood between Jerry and 142nd Brigade HQ, the Brigadier and staff were taken prisoner. On 24th March reached Ytres went to EFC Canteen, it was being cleared of stores, no water but plenty of whisky. I refrained. At Rocquigny the brigade was formed into a composite battalion – not many Irish left – under command of Capt Charlie Watson, Col Neely having been wounded and evacuated. Capt Hone was there too, [Later Lt General Sir Ralph Hone], the Composite Battalion was not even up to Battalion strength. Jerry came on again on the rise, in close formation even bringing up field guns and firing at us over open sights. It was a debacle, Capt Watson saw I was all in, (as was he), and advised me to get away. I legged it through Bus too weary to worry about the aeroplanes bombing and machine-gunning the roads. Reported to the Transport Officer, Capt Slattery, at Contalmaison and fainted. Later watched our transport being blitzed by the Red Baron's Squadron. Arrived in Albert at dead of night on 26th March, moved on to Bouzincourt arrived 29th March. Lt McKenzie Smith was in command of the Battalion. Later, investigating the ruins of the Cure's house with my batman, found in the cellar dusty bottles that looked like wine, smelled like wine and tasted like wine! We also found cigars, cognac, champagne and curacao. Foraging, we shot a stray pig and on returning to our billets found that Jerry had stopped at Albert."
The Official History says:
"The London Irish reduced in strength by the casualties of the previous few days to about a half company, joined the depot at Millencourt on 25th March, moving to Vauchelles-les-Authie on 26th March."
The decimated 141st Brigade was placed in Divisional Reserve. To quote again from the Official History: "During the withdrawal the London Irish took their full share in the heavy fighting and suffered the heaviest casualties in the Brigade: 22 officers and 586 other ranks wounded or missing, 3 officers killed and 2 died of wounds in POW camps."
The London Irish were fortunate to have an energetic, intelligent and very brave CO, Lt Col George Henry Neely, who had taken over from Lt Col McMahon Mahon MC. He had served with both the 6th Battalion of the London Regiment and the Highland Light Infantry. He had been wounded four times and awarded the DSO, MC and Bar and Mentioned in Despatches.
The following is an extract from The London Gazette, dated 12th July 1918:
"For conspicuous gallantry and devotion to duty during an enemy attack, which after repeated assaults, was partially successful. He (Lt-Col Mahon) led the reserve company with the greatest determination in a counter attack, which undoubtedly prevented further progress by the enemy. Though severely wounded, he then led the supporting battalions and succeeded in establishing the line, which was held until the enemy were driven back. His splendid courage was of the greatest value at a critical period."
Postscript.
NEELY WAS born on July 15, 1885 and educated at Kilkenny College, Dublin University and the University of France. It may be of interest to collectors that when Col Neely's medals were sold at auction there should have been a bar on the ribbon of his DSO.
Because there is a second London Gazette DSO entry in his name, dated 1st February 1919. It reads: "Neely. George Henry MC Capt. (Acting Lt Col), 6th Battalion attached 1/18th. On the evening of 5th Sept 1918, he personally led his men, with conspicuous coolness and gallantry, in an assault, and succeeded in clearing out many nests of hostile machine-guns, which had been holding up the attack all day. During the night he reorganised his own unit, and assisted others, and completed the work of disposing of further enemy machine gun posts, finally continuing the advance on Lieramont, driving the enemy from the village, and establishing himself on the high ground to the east. Throughout his magnificent example (he) inspired all in contact with him with the greatest confidence."
So the records should show this gallant officer's decorations as DSO and Bar MC and Bar.
(Thanks are due to Nigel Wilkinson).
---